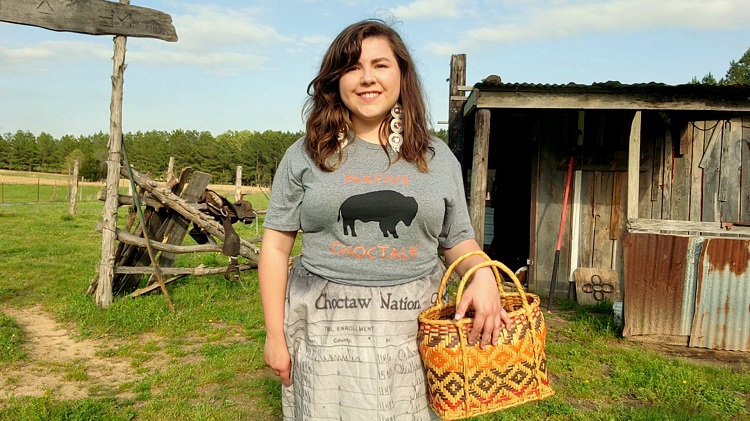 S2, E20, "The Voice of the Chahta Taloa (Choctaw Song): Sarah De Herrera, Okla Chahta Clan of California"
Native ChocTalk presents: "The Voice of the Chahta Taloa (Choctaw Song): Sarah De Herrera, Okla Chahta Clan of California"
The Trail of Tears…it's the story of heartbreak and sorrow for those who didn't survive, as well as for those who did. And for us as descendants of the survivors, when we hear the phrase, "Trail of Tears" we are immediately taken to a place of mourning for those who suffered.
Yet, the Choctaw are known for their generosity, kindness, and strength. You'll hear many Choctaws speak about this tragic event, but you'll also hear about how today, we celebrate resiliency and survival. As much as there is acknowledgement of this tragedy, there's also much hope and inspiration - this is truly the Choctaw way.
And such a story of inspiration was told by observers who recounted that as the Choctaw made their arduous journey, an unlikely sound could be heard sweeping through the trees – singing! Beautiful singing of Choctaw hymns, filled with courage and nostalgia, emanated from these weary travelers' voices. How did they find such strength? How was it even possible to sing during the worst of times?
Today, the Choctaw still gather at churches on Sundays and at special events, sharing their sacred and historical hymns. There are a few recordings of these lovely traditional songs. And I'd like to introduce you to a very talented woman, doing her part to preserve ALL of the Choctaw hymns. And when I say "all", I mean all 163 of them – a feat that has never been attempted before!
My guest today, Sarah De Herrera is on a mission to record all 163 Choctaw hymns but it's for more than just preservation. Her mission is to bring healing for generational trauma, through those hymns that were sung along the Trail of Tears and beyond.
You'll love this episode, as you'll not only hear Sarah singing some lovely songs in the Choctaw language, but you'll also hear about:
The significance of a preacher named Cyrus Byington
The life of a Choctaw princess – it's not as easy as you may think!
The story of her grandpa and the pucker-toed moccasins
Interesting stories written about her ancestor, Willie Spring
By the way, if there are any Usray or Spring or Fisher folks out there, let us know! Sarah is on the hunt to find more of her ancestors' descendants.
Yakoke, Sarah!
Native ChocTalk Facebook page: https://www.facebook.com/nativechoctalkpodcast
All Podcast Episodes: https://nativechoctalk.com/podcasts/
---