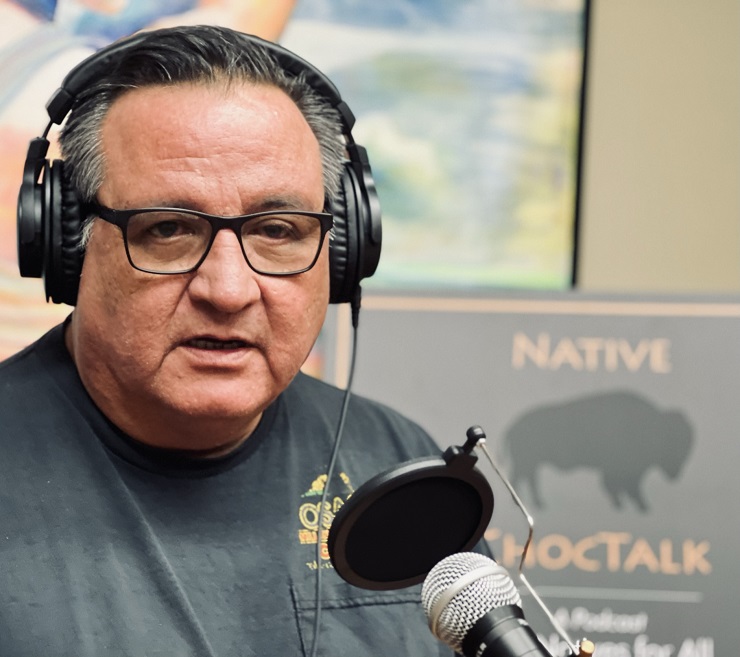 "Despite our wealth, our lives were cheap."
- Jim Gray discussing his Osage people in "Indian Country Today" magazine, Sept 13, 2019
On February 6th, 1923, hunters came upon a Buick that had crashed into a slope in Fairfax, Oklahoma. The 40-year-old driver was found slumped over the steering wheel, a bullet in the back of his head. He was an Osage man, lured into a dangerous trap by a white man - someone he thought was a good and trusted friend.
The book, "Killers of the Flower Moon" by David Grann tells the story of the Osage murders and "The Reign of Terror", a time when non-Native guardians were killing for the sake of inheriting land. But not just any land – Oklahoma mineral rich land, and the oil was producing millions of dollars for the tribe. This story is soon to be released as a movie by Martin Scorsese, with Robert De Niro, Leonardo DiCaprio and an impressive slew of Native actors from across Oklahoma and elsewhere.
Join me in this conversation with Jim Gray, the great grandson of the man found murdered in the car - Henry Roan. Although it happened long ago, the pain couldn't be more real, and it's still felt today among his family members and the community.
As former Chief of the Osage Nation, Jim was actually the youngest Chief in modern history! We talk in this episode about how perhaps it took someone young and daring enough to go out and do what he did, which was to change the entire future for the Osage Nation in a groundbreaking and incredibly impactful way.
You see, for many years, by federal law, 75% of the Osage population weren't considered members of the tribe. What?! Yep. Jim and team fought this issue and won! In 2004, the Osage's sovereignty was finally recognized, signed by President Bush in 2004. Now the Osage could form their own government and determine their own members. As we dig into the ramifications of this change for the tribe, you'll discover why this is so significant. PUBLIC LAW 108–431—DEC. 3, 2004: https://tinyurl.com/yckcz6pt
In addition, Jim's background included these accomplishments (and more):
• Introduced the Osage language into the public schools while Chief (hear the story about how the local high school quarterback used the language to his advantage)
• Journalist and Publisher of the "Native American Times"
• Worked for the Cherokee and Sac & Fox Nations
• Director of the Pawnee Nation of Oklahoma
• Was recently interviewed on CNN's "This is Life" with Lisa Ling
• Helping to roll out Korbyt.com – an app controlled by the tribe to communicate to tribal members
You'll also hear:
• The impact Jim had on Martin Scorsese to rewrite the "Killers of the Flower Moon" script
• How his friend taught Robert De Niro to speak Osage
• Thoughts on Osage living side-by-side with descendants of those who killed the Osage
• Whizbang, OK and why Jim's face turned red
• The latest on McGirt vs Oklahoma and tribal sovereignty, and Governor Stitt's fight to have the Supreme Court ruling reversed
• The story of David Grann at a book signing. Hint: the descendants of both William Hale and Henry Roan were present
All Podcast Episodes: https://nativechoctalk.com/podcasts/
Native ChocTalk Facebook page: https://www.facebook.com/nativechoctalkpodcast